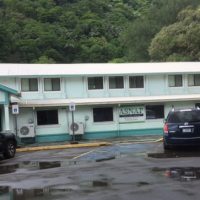 The female defendant charged in the Department of Human and Social Services case, Jane Vasa entered a plea agreement with the government today.
Vasa who was charged with one count of felony stealing has pled guilty to one count of misdemeanor stealing.
She was scheduled for a preliminary examination this morning however a plea agreement was presented by the Public Defender's Office which is representing her ,  and the Attorney General's Office.
The plea deal was approved by District court Judge Fiti Sunia and sentencing is set for late April.
Vasa's alleged role in the alleged fraud at DHSS is unclear in the court affidavit for her case.
The court information centers mainly on her two co defendants Vincent Toeleava and a businessman Kiren Zhang, also known as Kevin.
It's alleged that counterfeit coupons for the American Samoa Nutrition Assistance Program were produced which were redeemed at stores owned by Kevin.
Another store which allegedly redeemed the counterfeit coupons is also named and the store owners is identified as Gua Xiao Feng.
It's not known if Feng will be charged.
The alleged fraud was discovered after a review found that the first quarter funds for the ASNAP program had run out quickly,
According to court affidavits ANZ bank redeemed $667,555 more for the first quarter of FU2018  than the amount of food coupons that ASNAP issued.
Kevin and Toeleava are still held on bail of $450,000 and are scheduled to appear before Judge Sunia for  preliminary examinations later this week.