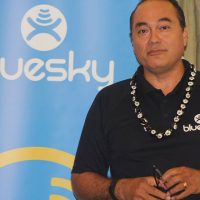 The President of the BlueSky Group Tilafau Douglas Creevey shared some interesting data about data usage between the two Samoas in his presentation at the Chamber of Commerce meeting last week,.
The BlueSky official said while Samoa's peak load is during office hours , our usage surges after 5 pm. when many are downloading netflix movies.
Play Audio
Asked when the territory can expect faster uninterrupted internet, Tilafau said that BlueSky has just finished a major upgrade which improves connectivity on the American Samoa Hawaii cable 800 times.
But he said the cable is full and they've had to lease satellite space just to help meet demand until the launching of the new undersea cables Tui Samoa, due to go on line later this week, and the Hawaiki Cable  due to begin in the summer.