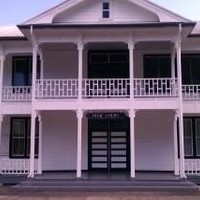 Chief Justice Michael Kruse says millions of dollars spent on scanners is useless if there's no scanning going on at a likely doorway for drugs.
The doorway he was referring to was the freight handling premises at the airport.
His comments were made during the sentencing of a customs agent  who plead guilty to importing $20,000 worth of marijuana in March of last year.
Twenty-two year old Titifalaula Siaumau admitted in a plea agreement with the government that he knowingly improted marijuana which arrived in a  package that had been air freighted from California.
Court affidavits had incidated that Siaumau had been in Sacramento earlier in the year with $12,000 cash.
It was revealed that the defendant approached an employee of a freight forwarding company to help clear the package he was expecting.
Customs agents discovered the marijuana hidden in a speaker, in a package which listed the sender as Toese Asiata, and was addressed to the employee of the freight forwarding company.
Last Friday as Siaumau was about to be sentenced, the  Chief Justice enquired about the whereabouts of the marijuana that was seized.  He said he didn't want that stuff recylcled.
Zeobia Jennings the custodian of the DPS evidence room informed the CJ that the drugs were all snt tot he DEA lab in California for testing.
She wasnt sure when they would be returned but said she would check.
Kruse enquired if there's any scanner at the freight handling facility at the airport, and was told there is.
The Chief justice noted that the case at hand suggests some involvement from the inside and commented that spending millions of dollars on scanning equipment would prove usless if there's no scanning at a likely doorway for drugs.
He asked that the speaker in which the marijuana was smyggled in be brought to court today and ordered Siaumau to be returned to custody and returned this morning for sentencing,.