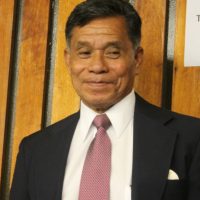 After conferring with federal counterparts and Hawaiian Air, Attorney General Talauega Eleasalo Ale and Director of Homeland Security Samana Semo Ve'ave'a made an announcement on KVZK-TV last night regarding acceptable travel documents for travel to the United States.
There's been confusion on whether American Samoa issued Certificates of Identity would be accepted after the February 5 deadline set by the US Department of Homeland Security when American Samoa drivers licenses will no longer be accepted for travel to the US for American Samoans.
Homeland Security Director Samana Semo Ve'ave'a had this to say about the matter.
Play Audio
The Transportation Security Administration website lists acceptable travel documents www.tsa.gov/travel/security-screening/identification
Keep in mind Samana's statement that you would need 2 or 3 forms of ID so you wont be able to use just your American Samoa CI, or Am Samoa drivers license on their own, there must be other forms of identification.