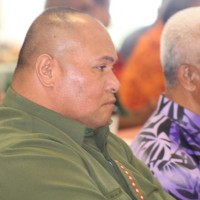 Director of the Office of Public Information/KVZK-TV Tuimavave Tauapai Laupola assures viewers that the government TV station will air the Super Bowl XXVI clash between the New England Patriots and the Philadelphia Eagles this Sunday.
Fans have expressed concern that off island programming aired on the TV station have not been of good quality lately.
The images break up or what's called picilated and the audio is hardly audible,
Tuimavave explained yesterday that since a power outage in Utulei early this week , the programming received over the internet has not been of the same quality.
But he gave his word that the problem is being fixed and the TV station is working with the American Samoa Telecommunications Authority to ensure that the SuperBowl game will be viewed in the territory without any glitches.
Many bars and restaurants are advertising Super Bowl watch parties and are depending on the government owned channel to provide uninterrupted live coverage of the battle.
ASTCA is the internet provider for the government TV station, in accordance with the governor's memo for ASG departments to support the government's phone company.