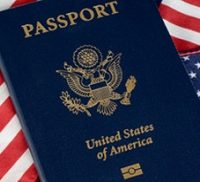 (PRESS RELEASE)…On Wednesday the Office of the Governor received notice from Mark H. Carlson, Customs and Border Protection Supervisory Program Manager in their San Francisco Office, that there is no change to CBP's policy of accepting American Samoa CIs to substantiate a bearer's claim to American Nationality on direct flights from American Samoa to Daniel K. Inouye International Airport in Honolulu.
Furthermore, Mr. Carlson shared that he does not see any changes to this policy in the immediate future as a result of the REAL ID Act and that if there were to be any changes to the policy CBP would try to provide ample notice.
While there is no change to CBP's CI policy, Mr. Carlson stressed that the policy is intended to facilitate entry in urgent and emergency cases where the passenger does not have enough time to obtain a passport. The preferred document remains an unexpired passport and CBP strongly encourages nationals and citizens who reside in American Samoa to obtain a passport prior to travel.
Due to the fact that American Samoa drivers licenses will no longer be accepted by TSA as a primary form of identification, effective next Monday February 5th, the Office of the Governor and the American Samoa Department of Homeland Security (ASDHS) reached out to TSA to clarify the types of identification documents that TSA will accept at their security checkpoints.
TSA first directed ASG to their website which contains a list of acceptable identifications which, by themselves, can be used to prove identity and to pass through TSA checkpoints. This list is found at https://www.tsa.gov/travel/security-screening/identification and consists of:
* Driver's licenses or other state photo identity cards issued by Department of Motor Vehicles (or equivalent) **does not include ASG identity cards
* S. passport
* S. passport card
* DHS trusted traveler cards (Global Entry, NEXUS, SENTRI, FAST)
* S. Department of Defense ID, including IDs issued to dependents
* Permanent resident card
* Border crossing card
* DHS-designated enhanced driver's license
* Federally recognized, tribal-issued photo ID
* HSPD-12 PIV card
* Foreign government-issued passport
* Canadian provincial driver's license or Indian and Northern Affairs Canada card
* Transportation worker identification credential
* S. Citizenship and Immigration Services Employment Authorization Card (I-766)
* S. Merchant Mariner Credential
TSA clarified that in the event that a traveler fails to present one of the acceptable documents listed above, they still may be able to fly, however in addition to the ID that they present to TSA they must provide at least two (2) more forms of ID with the traveler's name and other identifying information such as a photo, address, phone number, social security number, or date of birth.
The following is a non-exclusive list of documents that may be presented:
* Temporary paper IDs
* Expired IDs
* Credit cards
* Social security cards
* Birth certificates
* Marriage certificates
* Bank statements or bills
* American Samoan CIs
TSA reminded ASG officials that there is no standard list of what secondary forms of ID are acceptable so travelers are advised to bring what is available.
Additionally, if a traveler proves identity in this manner they may need to undergo additional screening, which may include a pat down and screening of other carry-on property. TSA also recommends that travelers arrive at least 2 hours in advance of their flight time to complete this process.
Finally, TSA stressed that travelers will not be allowed to enter the security checkpoint if their identity cannot be confirmed, if they choose to not provide proper identification, or if they decline to cooperate with the identity verification process.
Director of ASDHS, Samana Semo Ve'ave'a,stated, "We really appreciate all the help that CBP, TSA, and DHS has provided. A special thanks to Mr. Steve Yonkers of TSA and Mr. Mark Carlson of CBP for confirming this critical information for our travelers."
The Homeland Security Director said, "ASDHS and DPS are working hard to bring American Samoa into compliance with the federal REAL ID Act. Only 31 states are completely REAL ID compliant at this time. The remaining states and territories are still working to come into full compliance.
"Unfortunately, at this time American Samoa is not in compliance and we are working hard to remedy that issue."