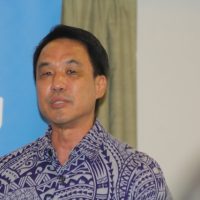 The American Samoa Power Authority had estimated that the territory's only landfill will be full in two years.
However by recompacting  the waste at the landfill, ASPA has extended the lifespan of the Futiga dumpsite.
The managing Director of ASPA Paul Michael Young said finding a large enough parcel of land for a new landfill has proven very difficult .  he said not only is there not enough land on Tutuila but nobody wants a landfill next to where they live.
Young talked about the recompacting of the futiga landfill in a presentation for ASPA at last night's Annual General Meeting of the American Samoa Chamber of Commerce, for which he is acting chairman.
With regards to water , 50% of the island of Tutuila has been under a Boil Water Notice since 2003.
Young said the primary causes are contaminated wells and non revenue water which hovers at 60%.  That is 60% of the water that ASPA generates is lost through leaks.
He told the meeting the infrastructure for water delivery is old or have defects.
About 10 to 15 years ago, AC pipes were put in and its been found that there are major leaks where the pipes are joined together.
Play AudioYoung-leaks
A portion of an $8.9 million grant to ASPA from the US EPA will be used to replace the leaking pipes, construct new water wells and  build new storage tanks.
And ASPA will focus on drawing water from the Malaeimi water shed, which is one of the best areas for water on the island.
APSA is drilling five new water wells  and building a new water tank in the area which is hoped to alleviate the non revenue water and help get rid of the boil water notice.