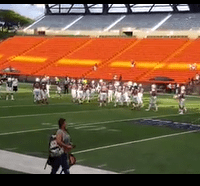 John Raynar  reports from Honolulu that the JPS scorecard on Thursday had our 7th and 8th graders losing to Las Vegas by a final score of 30-12.
Cisco Mauigoa had 2 scores and 2 turnovers as he played quarterback on offense and safety of defense.
Meanwhile the seniors lost to NorCal by a final score of 21-13.
American Samoa's scores came from Jacob Umu and Tala Sufia.
Our girls volleyball team finishes out their tournament tonight in the gold bracket while football continues tomorrow as both of our teams are matched up and vying for third place in the third annual JPS Classic.