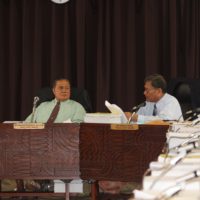 The Lolo Lemanu administration has resubmitted to the Fono for approval a bill to hike the excise tax on miscellaneous items which is currently at 5%.
The governor points out that American Samoa's excise tax on miscellaneous items has not been changed for many years and is in need of updating and adjusting to address new economic realities.
The current 5% tax he said is insufficient to meet the growing costs of providing critical government services including medical public safety and others.
The latest bill from the administration increases the tax from 5 to 8% with 75%of the revenues going to the General Fund.
During the Special Session of the Fono, lawmakers changed a proposed 7% sales tax that the administration proposed to a higher excise tax.  The final amount which the House and Senate agreed to was 8%, however the governor vetoed the bill.
$1 million shall be appropriated for student financial aid and the remaining amount shall be earmarked for repairs, and renovations of all public school facilities.
The governor informed the Fono leaders that without the increase American Samoa will continue to fall behind in the proper funding for schools and education of our youth.