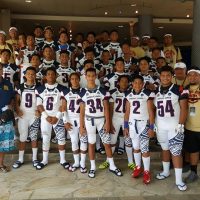 It was Las Vegas 30, American Samoa 12 in the first game for our 7th and 8th grade football teams at the JPS Classic in Honolulu.
The game at the Aloha Stadium was aired on V103 Radio this afternoon. LJ Solo was the commentator.
Play Audio
And that was the final score Las Vegas 30 Amerika Samoa 12.