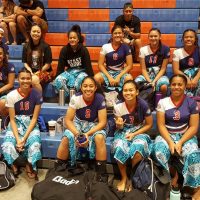 American Samoa's JPS Girls Volleyball Team had 3 matches last night at Kalaheo High School.
American Sam won the 1st, lost the 2nd and split the final match, which puts them in the gold bracket.
They'll compete for the top spot in the JPS Volleyball tournament on Friday.
Meanwhile today, American Samoa's football teams play under the bright lights of Aloha Stadium.
Action starts at 1 with our 7th and 8th graders coached by Okland Salavea.
7th and 8th graders face off against Las Vegas while our High School Seniors are matched up against Northern California.
That game begins at 4PM.
Seniors head coach is Kolose Ili.
Southseas Broadcasting will broadcast both games on V103.