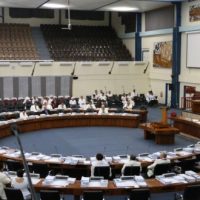 At least four new Parliamentary seats in Samoa are being proposed in changes to the Electoral Act and the Constitutional Act.
This is revealed by the country's Electoral Commissioner Faimalo Mathew Lemisio, in a report in the Samoa Observer.
Faimalo told the newspaper that amendments are currently in draft form and have been given to Cabinet, which is  currently deliberating on them.
In the last electoral review,  the districts of Vaimauga and Faleata were given additional 'urban' seats which became effective in the General Elections in 2016.
Now it looks likely that they will each get an additional seat to cater for the continuing drift from rural areas in search of jobs and better economic situation.
Also on the cards to get it's own seat in the House is the village of Le'auva'a, one of two villages located on the island of Upolu but tied traditionally and electorally, to the big island of Savai'i.
The electoral district of Safata, also on Upolu, is also get an extra seat.