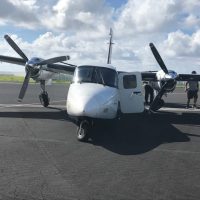 A Talofa Airways Twin Commando aircraft damaged front and back wheels after landing at Pago Pago International Airport this morning.
None of the passengers was hurt, and the pilot was also unharmed.
One of the passengers, Danita Adams, said their flight had been delayed by half an hour leaving Fagalii.
They were told there was a problem with the tyres.
Adam said after the plane was cleared  to leave, their flight was smooth and so was the landing.
Play Audio
Questions have been sent to Talofa Air but the airline had not responded as of news time.
The airline is making arrangements for travelers booked on their flights to and from Samoa.
KHJ News received reports that passengers waited for quite a while to get assistance from the airport and had deplaned by the time help arrived.