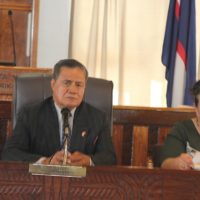 Reports from Samoa that five people have died from dengue fever has raised concern in the territory, with many asking if the local Department of Health is taking any measures to safeguard the territory.
Today in the Senate, Senate President Pro Tem Nuanuaolefeagaiga Saoluaga Nua brought up the dengue deaths in Samoa and called for vigilante action to ensure that dengue related deaths are prevented here.
Senator Nua told KHJ News after the session that with so many people traveling between the two Samoa, there needs to be a coordinated effort to stop the spread of dengue.
He said he hasn't seen or heard much about dengue prevention efforts in the territory but with several dengue related deaths reported from Samoa, DOH should be bombarding the media with announcements on what to do to protect them and their families from dengue.
He said perhaps the territory should also look at spraying aircraft and vessels like what Samoa is doing.
The Samoa Ministry of Health has confirmed five dengue related deaths.
Epidemiologist at the American Samoa Department of Health, Magele Scott Anesi, says DOH's Unified Health Command has been reactivated and their first meeting on Tuesday discussed plans to respond to dengue.
He said DOH is aware of the dengue deaths in Samoa and local health officials will be talking with counterparts in Samoa to see what assistance the territory can offer for the outbreak there.
They will also discuss movement of dengue patients between the islands.
He indicated it's a concern if patients who are sick there come here for treatment.
The Unified Health Command hopes to release a plan of action to respond to the Samoa dengue deaths and rapid spread of the disease next week.
From November 1st 2016 to January 7 this year, the number of confirmed dengue cases in the territory is 485.
The areas with the heavy concentration of suspected dengue cases are Ituau, Mauputasi and Sua.