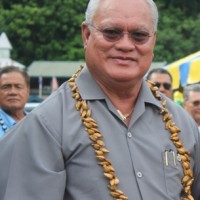 The Department of  Public Safety has received reports that a former police officer wanted in connection with drug crimes, has been sighted in the US west coast.
Steve Tuatoo had been arrested following drug raids in November however he had not been charged by the time the limit for holding suspects without charges being filed, had expired.
Two others who had been arrested on drug charges that same day but in separate raids,  Cody Wood and Lemalie Taisia were charged within the time limit and their cases are making their way through the court system.
Commissioner of Public Safety Lei Sonny Thompson said that Tuatoo has been seen in Seattle, Washington.
According to the commissioner, DPS may involve federal authorities in bringing Tuatoo back to the territory.
He said this would be worked out after the holidays.