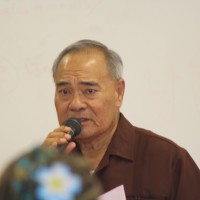 The third regular session of the 35 legislature opens this morning in a joint session at the Lee Auditorium at 10 oclock.
There seems to be a differences of opinion on whether the governor should deliver a state of the territory address this morning.
One senior staffer told KHJ News Friday that the state of the territory speech is only supposed to be delivered at the start of a new legislature.
So it was fitting that the governor delivered a state of the territory speech last January.
But the opening today is not for a new legislature, rather its for the start of a new session.
At any rate the State of the Territory address has been prepared and will be delivered by the governor this morning.
At a cabinet meeting early last month, directors were told to send their reports to the governor's executive assistant Iulogologo Joseph Pereira, who was to work on the speech in Honolulu.