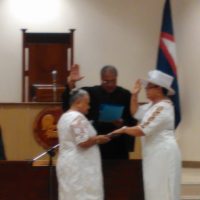 Before the opening of the joint Fono session this morning, the new House Representative for District no. 5, Sua #1, Mrs Fialupe Felila Lutu was sworn in.
Chief Associate Judge Mamea Sala Jr. administered the oath of office in the temporary House chamber on the north wing of the Lee Auditorium.
Mrs Lutu was Chief Clerk of the House when she threw her name in the hat for the special election for Sua on October 24 last year.
She topped the polls over five other candidates garnering 94 ballots or 26 percent of the 357 ballots cast.
Mrs Lutu is the second female member of the House, joining Tuala-uta faipule Vui Florence Saulo.
The seat became vacant with the resignation of Puleleiite Tufele Li'a Jr. to become CEO of the American Samoa Telecommunications Authority.