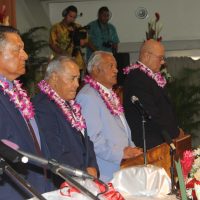 The American Samoa Fono will be back in session for the Third Regular Session of the 35th Legislature next Monday.
The last session was dominated by revenue measures submitted by the administration and the FY2018 budget for ASG.
Governor Lolo Moliga has already indicated in his correspondence to the Fono that he would be resubmitting legislation which he felt the Fono did not adequately address, for example the excise tax in lieu of sales tax measure .
The governor is also expected to send nominations for vacant director positions including that of Human and Social Services, due to the passing of director Taeaoaofua Dr. Meki Solomona, Marie Alailima as Administrative law judge replacing Toatagata Albert Mailo and Ken Tupua as Director of Parks and Recreation replacing Faumuina Pili Gaoteote who resigned.
One issue that is sure to come up is whether the windfall from ASH cable of $1.6 million as reported last month will be sent to the Fono for appropriation.
KHJ News is also trying to find out whether this was the full amount of the profits earned by ASH Cable, as some reports have said that the company overseeing the undersea fiber optic cable connecting the two Samoas to Hawaii generated a much larger profit.