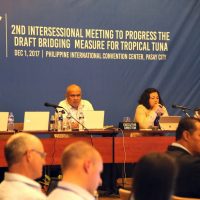 American Samoa's delegation to the annual meeting of the Western and Central Pacific Fisheries Commission meeting in Manila have highlighted that in working with the United States delegation to the meeting, they were able to successfully secure 100 extra high seas fishing days for American Samoa.
Access to fishing grounds that are close to American Samoa is a very important factor in the operation of the local canneries.
The American Samoa delegation was led by director of Marine and Wildlife Resources, Vaamua Henry Sesepasara and the Chairman of the American Samoa Fisheries Task Force, Solip Hong  and includes Joe Hamby, Chief Operating Office of Tri Marine, Toetasi Archie Soliai of StarKist, Taulapapa William Sword of Pacific Energy and Domino Ochavillo, and Tepora Lavatai of DMWR.
The US delegation to the Manila conference was led by Acting Deputy Assistant Secretary of International Fisheries Sam Rauch and included government officials as well as fishing boat owners and organizations that represent US fishing companies.
The biggest unresolved issue at the meeting was finalizing a new 3-year tropical tuna measure that would set control measures for tuna fishing in the area covered by the Treaty area.
A press release from the local delegation says after a marathon last day commission members agreed to a new 3-year tuna measure and among other things recognized the plight of American Samoa tuna industry.
They passed a measure granting 100
extra high seas days to the United States for American Samoa as well as reducing the closures on Fish Aggregation Devices, which were closed all year in 2017.
Hong said it was a team effort and praised the leadership of Sam Rauch for placing American Samoa at the forefront.
He said the local delegation made sure to press upon the Pacific Island parties the dire situation of our tuna industry.
"But because the US delegation has final say as to what statements and deals are made on behalf of American Samoa, it was really in the hands of Mr. Rauch to take sure we saw relief."
Hong said, "Thank God for the hard work Sam put forth and a big faamalo to the awesome support from the US delegation."
In plenay session and in breakout session, Hong delivered statements to members of the commission education them on the frightful state of the tuna industry in American Samoa and the need for relief by granting extra fishing days to the territory.
DMWR Director Sesepasara said, "We have really worked hard at these meeings to impress upon the Pacific Island countries that we are like them.
"While we are a part of the United states, the fact is that our economy, like many Pacific Island Countries, is dependent on the tuna industry. It seems that in this meeting we finally broke through."
Commenting on the outcome of the meeting, Governor Lolo stated, "A job well done to our American Samoa and US delegations.
"We have really pushed hard for our involvement in these meetings. I am very pleased that our voice is being heard and corrective actions taken."