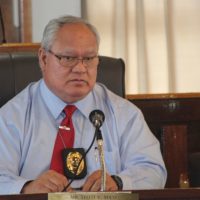 Police are making themselves visible on the road both day and night in the final days of 2017.
Department of Public Safety sobriety check points are being moved around various parts of the highway.
And according to Commissioner Lei Sonny Thompson the check points have been a good deterrent in keeping those who've had a bit too much to drink, off the road.
Though numbers haven't been tallied, the commissioner says there's been a slight increase in public peace disturbance cases, but not so many DUI's up to today.
He said the sobriety check points which are a 24 hour operation have deterred a lot of DUIs.
The Commissioner's advice for those planning to celebrate the passing of 2017 and arrival of 2018 is, "enjoy the holidays with families and loved ones, whether at home or in the parks and beaches."
Le'i also calls on the public to report person/s seen on the road who appear to be driving recklessly or may appear to be under the influence.
"We will get them off the road so the general public can enjoy the holidays."
On behalf of DPS the commissioner wishes everyone "a very Happy and Safe New Year."