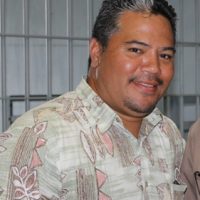 Another ASG office is issuing receipts instead of the real deal.
The Office of Revenue, under Treasury, is not able to issue 2018 business licenses.
It's issuing receipts instead and telling business owners to return within four weeks to uplift their 2018 business licenses.
And they can use the receipts as proof that they've renewed their business licenses for the new calendar year.
Deputy Treasurer Revenue, Keith Gebauer has an explanation.
He says in the past the business license certificates issued by revenue were  done manually.
Now they are  upgrade their system to produce the licenses electronically, and the upgrade is not quite complete, but close.
Asked if he hadn't anticipated the end of year issuance of 2018 business licenses and get the upgrade done earlier.
Gebauer said it was all planned but there were some problems which required a bit more time.
He said there were some learning curves with the new system.
He apologizes for the inconvenience caused.
The Department of Commerce where business license renewals are channeled and processed said in an announcement that owners have to display their 2018 licenses in a conspicuous place on their premises.
Asked about this, Gebauer said DOC has been informed that the certificates aren't ready and owners can produce their receipts as proof they have gone through the process.
Gebauer says they are trying to complete the upgrade and expect to be able to produce the 2018 business license certificates in four weeks.