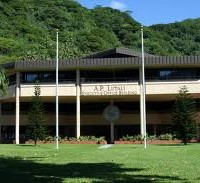 December 31st is the deadline to renew business licenses for the 2018 calendar year.
As of yesterday a total of 1,968 licenses had been renewed, 761 short of the number of licenses issued for 2017.
With tomorrow being the last day to renew business licenses, the Department of Commerce hopes that owners will not wait till the last minute.
Saeu Porotesano says retail stores, sewing shops and farms make up the bulk of busienss licenses already issued.
A notice from DOC at the start of the business license renewal period in October said failure to have a current business license by January 30, 2017 will subject your business to prosecution and you would be forced to close your operation.
If you renew your business licenses after January 30, you will be subject to additional fees.
Saeu suspects that new businesses will probably wait till the start of te new year to obtain business licenses…
She notes that a complaint from small mom and pop stores is that they are being charged the same business license fee as major stores …the license for a retail store regardless of size is $150.
The DOC staff  handling business licenses point out that last Friday departments closed at noon even though there was no memo to that effect,
They suspect that will happen again this Friday, so their advice is dont wait.