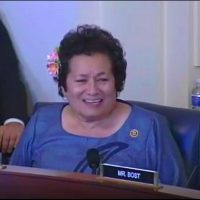 Congresswoman Aumua Amata welcomes an important decision by the Justice Department adding the American Samoa Government to the agreement between StarKist and federal agencies relating to violations of environmental regulations.
This action, in response to inquiries by Congresswoman Aumua Amata and Governor Lolo, redirects $2.6 million in agreed upon funds from Washington to American Samoa.
Aumua said in a press statement, "This is great news for American Samoa, and keeps a substantial portion of these funds in the islands, as it should be.
"I believe the Justice Department made the right decision to bring American Samoa into this agreement, and I applaud everyone involved for their willingness to consider all the facts and make this key change."
The new agreement retains the same total dollar amount, $6.3 million, but the inclusion of ASG allows approximately one third of the funds to stay in American Samoa.
The congresswoman said, "All parties to this agreement should be complimented for their willingness to include these considerations of the impact on American Samoa, and come to an agreement including the local community."
Aumua also stated, "I'd like to add a particular thank you to Governor Lolo as we worked together to highlight these facts and bring about a resolution that makes a real difference for the territory.
"I would also like to thank Attorney General Talauega Eleasalo V. Ale for his hard work and dedication with the Department of Justice and the EPA to ensure that ASG received these funds."