Three American Samoan women who lead the way in the longline business in the territory are featured in the fall newsletter of the Western Pacific Regional Fishery Management Council, Pacific Islands Fishery News.
Under the title American Samoa Women Longline Owners Persevere, the feature tells the story of  Christinna Lutu- Sanchez, Rasela Feliciano and Krista Corry.
It says while the roles of women have evolved and expanded in the territory, more than 90 percent of the matai titles are held by men, despite this, the three have blazed a new trail while taking ownership of one of the United States main Pacific Fishing fleets.
Feliciano, of Feli Fisheries Inc,  Lutu Sanchez of Longline Services Inc and Corry of Tuna Ventures "are Samoan women whose families own all but three of the US longline vessels based in American Samoa."
The article says that while each has her own unique business approach, they share two remarkable similarities in their management style.
First they are hands on and lead by example and second they treat their crew as family rather than employees.
The story tells about the struggles faced by the long line companies owned by the families of the three women due to the Large Vessel Prohibited Area (LVPA) issue.  This prohibits longliners from fishing within 50 miles from shore, an area only small alia can fish in.
The Fisheries Council had amended the LVPA rule to allow locally owned longliners to fish in the ar
ea reserved for alia, owever their decision was overturned by the US District Court in Honolulu.
The ruling was in response to a lawsuit filed by the Territory of American Samoa which argued that the rule went against the spirit of the American Samoa Deed of Cession with the US.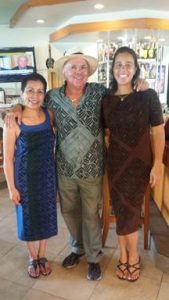 The three women featured in the article say that the local fishery is owned by indigenous families and provides jobs and economic revenue to the territory and fish to the cannery.
The story points out that they have worked tirelessly over the past four years to gain support for their struggling fishery.
"When many other boat owners left the territory having decided that operating a longline vessel in American Samoa has become too difficult or expensive they remained."
Lutu Sanchez says, "Fishing is risky, dangerous and a challenge. But it provides locally produced food. Fish is our food yet not enough people in American Samoa fish commercially, recreationally or for subsistence.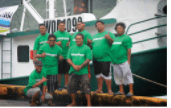 "Most people buy the fish they eat and the fish they buy is most likely imported."
She notes that the US imported nearly $20 billion of seafood in 2016.
As American Samoans, Lutu Sanchez, Corry and Feliciano feel they have not received support from the American Samoa Government for their fishery and this is something that they find hard to understand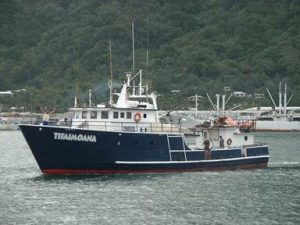 .
Forming the core of the Tautai o Samoa Longline Association the three rely on each other for support.
Feliciano says, "Our goal is to coexist with our small fishing vessels to support and help each other and we continue to do so. This is never about us taking away from our small fishing vessels."
Corry adds, "It is a struggle every day.  We are fighting to be able to continue to fish and put food on our table and the tables of those who work for us.  It is about supporting our families our economy."