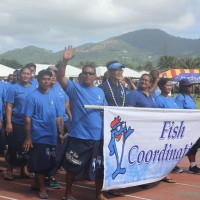 The Territory of American Samoa is officially a co-plaintiff in the United States lawsuit against StarKist Co. and Starkist Samoa for alleged violations of environmental laws at StarKist's plant in Atu;u,
The American Samoa Environmental Protection Agency issued a press release saying on December 22, the United States lodged an amended complaint with the US District Court in Pittsburgh, Pennsylvania, adding the territory as a co-plaintiff.
The amended complaint includes the territory's claim for violations of the American Samoa Environmental Quality Act and its implementing regulations, based on the same fact underlying the United States claim for relief.
The amended complaint also alleged three new violations of the federal Clean Water Act by StarKist.
Along with amended complaint, the United States simultaneously lodged a proposed consent decree, signed by the United States, American Samoa and StarKist, which resolved the alleged violations.
Under the proposed consent decree, StarKist will pay a total civil penalty of $6.5 million and provide emergency response equipment to the American Samoa Department of Public Safety, Fire Services Bureau.
For the civil penalty, StarKist will pay $3.9 million to the United States and $2.6 million to the territory,
StarKist will also perform major facility upgrades and other environmental compliance measure.
The US EPA will partner with American Samoa EPA to oversee StarKist's Compliance efforts.
The proposed consent decree is subject to a 30-day comment period and final court approval.
A copy of the proposed decree is available at the US DOJ website usdoj.gov/enrd/Consent_Decrees.html