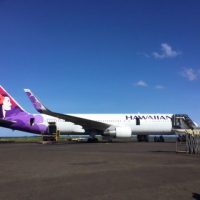 It has been a frustrating day for passengers who were to leave on Hawaiian Air's Flight 466 bound for Honolulu Monday night.
A problem with the air conditioning system forced the aircraft to remain on the ground all day yesterday and the eventual cancellation of the flight.
Hawaiian Air spokesperson Ann Boticelli said there was an issue with an indicator light involving the air conditioning.
She said on Monday  that light suggested a problem with one  side of the air conditioning system.
"This is not something that we ignore," she said in reply to KHJ News questions.
After the flight did not leave  Monday night, the airline  announced that plane would depart Pago Pago International Airport  at 1:15 yesterday afternoon.
Passengers boarded the flight however they had to disembark after a while on the aircraft.
According to Boticelli when the indicator light did not come on, passengers boarded the plane.
But the light came on again, and so passengers deplaned and returned to the departure lounge while mechanics continued working on the aircraft.
Passengers said  it was unbearably hot inside the plane when they boarded.
By 4pm yesterday the travelers were still waiting.
Some passengers were calm and took things in stride while others were  yelling and even swearing at Hawaiian airlines staff.
Just before 5pm, Hawaiian Air's Botticelli informed KHJ News that the flight has been cancelled.
She said, "We have had to cancel the flight because we needed a part."
That part will be arriving on tonight's add on flight for the holidays.
Boticelli said, "We will be able to accommodate all passengers from that flight and the cancelled flight."
There were 130 passengers on the cancelled flight.
Boticelli said non resident passengers were put up at hotels and the airline initially gave a $300 travel credit to all who stayed with the flight; that voucher was increased to $500 when the flight was cancelled.
In addition, passengers are able to make one-time change without fees to any other HA flight within 14 days.
Travelers who chose not to fly are receiving full refunds.