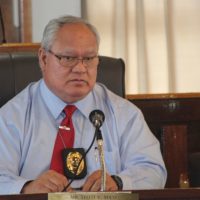 The Department of Public Safety has arrested a suspect in connection with an incident in which police officers were shot at at the Tony Solaita Baseball Field a week ago.
Commissioner Le'i Sonny Thompson said Thomas Siaumau has been arrested in connection with the incident and is appearing in District Court today.
Le'i said police are looking for one more person and once found will be arrested as well.
The commissioner thanked members of the public who responded to his call for assistance in searching for suspects responsible for the attempt on the lives of the police officers.
He also thanked the media for getting the information out which resulted in the arrest.
Two police officers had gone to the baseball field in response to a call from the ASTCA security officer about cherry bombs being exploded from the direction of the field.
While one officer was trying to loom around, gun shots were fired, breaking the windshield and the bullet piercing through the back passenger seat where the officer who got out would have sat.
Siaumau has a prior criminal record.