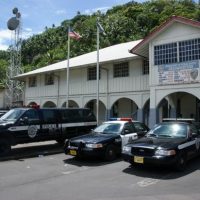 There were 27 arrests from the Department of Public Safety holiday enforcement from Friday up to last night.
17 were for public peace disturbances, nearly all alcohol related and seven were for driving under the influence.
Police report that it was a peaceful and quiet Christmas long weekend and there were no incidents.
Roadblocks by DPS during the day and night reinforced the commissioner's announcement that police will be out to enforce the law and protect the public from law breakers.
It's usual for the Christmas holiday to be quiet and peaceful as it's a time for family gatherings, and to attend church services.
Christmas Eve being a Sunday was also a factor.
But police expect that as revelers get into the party mood to say goodbye to 2017 and usher in the new year, their hands will be full this weekend.