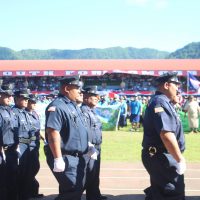 Commissioner of Public Safety Le'i Sonny Thompson is pleased with the results of the DPS holiday enforcement which got underway Friday.
He says the great news is that there is no fatality as a result of traffic accidents or public pece disturbances during the Sobriety Checkpoint Operation.
There were 7 driving under the influence cases, 16 public peace disturbances, 3 underage drinking and 1 arrest warrant executed.
The arrest warrant was that of Thomas Siaumau in connection with the shooting at the Tony Solaita Baseball Field a week ago.
The commissioner expressed gratitude to members of the public for their generosity in terms of food and drinks for police during the roadblocks and also for their patience and understanding.
He said, "Our focus and hope as always is to serve and protect especially this time of year-the general public should have a festive time with loved ones, both those who live here and those visiting and on vacation.
Le'i also thanked the public for assisting in their search for the shooting of the police officers vehicle in an attempt against the police officers lives last week.
Thomas Siaumau has been arrested and he appeared before the District Court this morning.