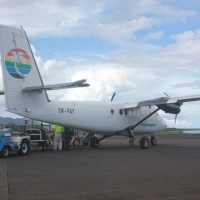 Samoa Airways, which normally makes one trip to Ofu, Manu'a per week, put on an extra flight to the Luanu'u (Two Islands) today because of the demand.
An airline official said that they managed to squeeze in a flight to Ofu, plus the regularly scheduled flight to Ta'u Island, Manu'a today.
This comes as the airline doubles flights on the inter Samoa route.   The Samoa carrier has three Twin Otters.
According to the airline spokesman they've increased their daily flights from 8 to 16 because of the large number of travelers from the territory heading to Samoa and to New Zealand.
One of the larger groups is the Leone CCCAS which is visiting Auckland, New Zealand, taking advantage of Samoa Airways discounted fares to Aotearoa.
Up to now the airline is still trying to catch up with a backlog of passengers and cargo from cancelled flights early this week due to foul weather.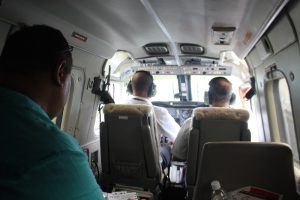 The other carrier on the route, Talofa Airways has also doubled its flights and reports that passenger loads to Samoa are full.
A spokesperson said other than the dealys early in the week due to the bad weather, Talofa flights are running pretty much according to schedule.