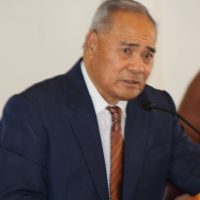 Giving to those less fortunate is an underlying message of the Governor's Christmas greeting for 2017.
Governor Lolo Matalasi Moliga says while Christmas is synonymous with physical gifts "a kind gesture to your neighbor, doing a good deed for someone in need, uttering a kind work for those in trouble or simply displaying a spirit of goodwill will go a long way to make this Christmas special for someone."
The governor says its highly fitting that we greet Christmas with joyfulness and festivity as it reflects and manifests God's greatest gift to all mankind.
He notes, "Exchanging tangible gifts with each other displays our way of celebrating this memorable occasion, however it is essential to remember that not all are as fortunate as we are.
"Thererofe we should be more mindful this Christmas and reach out to those who are experiencing various challenges in their lives."
The governor gives a special mention of the men and women in uniform.
He says, "On this Christmas remember our heroes, the men and women in all of the Armed Forces of the United States who are placed in harm's way in order to protect our freedoms and ensure that we live in peace, free form oppression and injustice."
Governor Lolo conveys on behalf of Lt Governor Lemamu and his family, he and  First Lady Cynthia and their family, good tidings of the season.
"I wish all of you a Blessed Merry Christmas and may the New Year bring our territory prosperity and continued peace and goodwill.
"May all the families of American Samoa here and abroad feel the Spirit of Christmas and its inherent message of joy and peace."