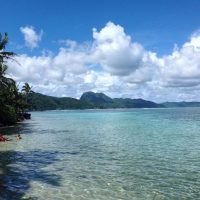 After so much rain since December started, most are wondering what kind of weather will the weather men and women serve up on Christmas Day?
We checked in with the National Weather Service and we were told that the forecast for Monday, December 25th calls for fine weather…much like today's.
In fact from today up to Monday we should be looking at blue skies and sunny westher.
And that means Santa and his elves shouldn't have to carry raincoats or umbrellas or be worried about their sleigh taking on water at the flooded hot spots of Tutuila.