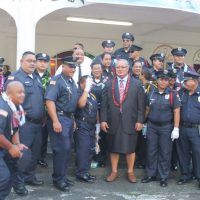 The Department of Public Safety has returned to three shifts a day with the addition of new police officers from the latest Police Academy.
DPS has been operating on two 12 hour shifts per day for several years due to lack of manpower.
Commissioner of Public Safety Le'i Sonny Thompson says people can expect an increased presence of police during the holiday enforcement which begins today.
In the past, whenever DPS had special enforcement for graduations or Christmas and New Year holidays, there would be no liberty for police officers, due to the shortage of officers.
But with the more than two dozen graduates from the 26th Police Academy the commissioner says officers are working normal 8 hour shifts and there's no restrictions on leave.
Le'i says the holiday enforcement will check on inebriated drivers and also expired licenses, seat belts, child safety seats, and the like.
He asks for the public's cooperation in making this festive season a safe and peaceful one.