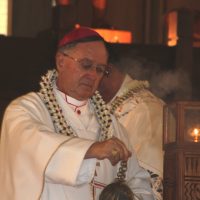 Bishop Peter Brown of the local Catholic Church in his Christmas message reflects on the Christmas story and the message to Joseph over two thousand years ago.
"You shall call Him Emanuel" (God is with us). "
Bishop Peter Brows says, "The same message is repeated to us each year.  Christ's birth heralds a new relationship between God and ourselves. We need God in our lives! The child of Bethlehem is the God of Peace among us."
The leader of the local Diocese adds, "We look forward to this time of celebration as we recall that blessed event in our Churches Christmas Day.
"It is also a special time with our families and friends. I pray that Christmas 2017 will be filled with the peace of Christ. That your families will be safe and God will bless you all."