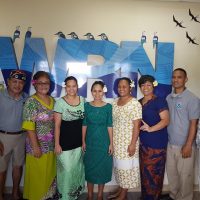 The National Weather Service is in the process of moving weather observation systems that it has been providing  for Pago Pago International Airport, to the Federal Aviation Administration and the American Samoa Government.
These services are what aircraft coming into and fly out of Pago Pago International rely on.
Yesterday the Deputy Director of the National Weather Service Pacific region in Honolulu, Tom Evans briefed  airport officials as well as airline representatives on the transition.
Evans says they want to make sure all of the parties involved will be on the same page for the safety of  air transportation and travelers.
Play Audio