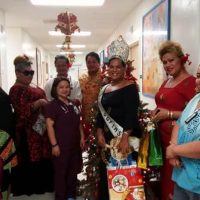 Members of the Sosaiete o Faafafine i Amerika Samoa, SOFIAS, brought smiles to patients and staff of the Pediatric Ward at LBJ this afternoon.
Led by President Ipi Ieli and Miss SOFIA 2017 Eden Brown, the group had presents for all of the 16 patients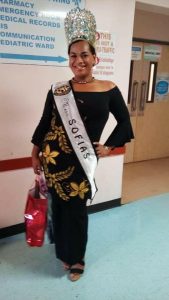 at the ward for children, plus several more presents that will be given to new admissions from today up to Christmas Day.
The SOFIAS Santas also had a bag full of  snacks and sweet treats for the nursing staff.
President of SOFIAS Ipi Ieli says this is an annual activity for their organization, to share the spirit of Christmas with the children who are spending this special time for the year away from home due to illness.
She added, "We also want to give thanks to the nurses who are caring for the children
night & day.
"Its not an easy job when you have so many children in one place."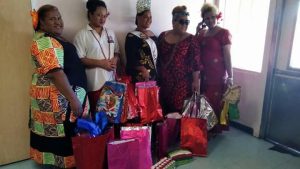 On behalf of SOFIAS Ipu wished all the people of American Samoa a Merry Christmas and a Happy New Year.
A nursing supervisor said the children were excited to receive presents and their parents were also appreciative of SOFIAS' kind gesture.
Other groups which have visited and delivered gifts for the young patients are Department of Human and Social Services, Samoana High School, Pacific Horizons and First Lady Cynthia Moliga.