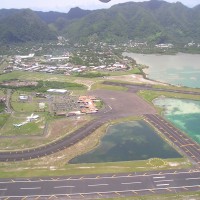 McConnell Dowell has been awarded the contract for the Airport Rehabilitation Phase 2 Construction that was originally awarded to Paramount Builders.
Acting Chief Procurement Officer Sapi Ma'o Ena said via email yesterday that the CPO awarded McConnell Dowell the contract for this project in the amount of $11.2 million.
The award is contingent upon the submission of a 100% performance bond and a 100% payment bond from a US Department of Treasury Circular 570 approved surety.
McConnell Dowell is understood to be the second lowest bidder.  Paramount's bid came in at $9.8 million.
As listeners would recall, Chief Procurement Officer Dr. Oreta Critchon awarded the contract for the project to Paramount last month.
However she later terminated the contract saying , the surety posted by the company was not listed in the current issue of the US Treasury circular.
In addition she said there was insufficient evidence of the financial strength of the insurance company covering the Paramount bond, Aeto Insurance.
The attorney for Paramount Builders Roy Hall Jr. has filed a notice of dispute over the CPO's termination of contract.
Hall told KHJ News yesterday that the administrative review process provides that the CPO has five days to acknowledge the notice of dispute and then 30 days to make a decision.
With the CPO now awarding the contract to McConnell Dowell it appears that the matter is headed to the Administrative Law Court.
Director of Port Administration Taimalelagi Dr. Claire Poumele says Port Administration is anxious to get the airport project underway.
McConnell Dowell is also the contractor for the upgrade and paving of the Airport runway 05-23.
For that project the contract amount is $9.2 million and McConnell Dowell has 210 calendar days from the date of the execution of the contract, August 15, to complete the job.