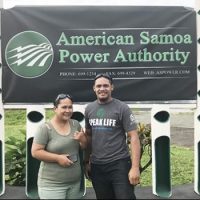 The Department of Homeland Security (ASDHS) announces the completion of a 3-day Communications Unit Leader (COML) Course by two employees of the American Samoa Power Authority: Radio Technician/Operator Brenda Tevaga-Feero and Radio/SCADA Technician Pene Vaisagote.
The COML Course is  designed for all state/territory, tribal regional, and local emergency response professionals and for support personnel with a communications background.
The course familiarizes these professionals with the role and responsibilities of a COML under the National Incident Management System (NIMS) Incident Command System (ICS) and to provide hands-on exercises that reinforce the lecture materials.
Participation is by invitation only with all expenses paid for by the federal government.
Tevaga-Feero and Vaisagote are the most recent candidates representing American Samoa first responders to attend and complete a COML Course in a decade.
Notably, Tevaga-Feero is the first female to join this specialized technical area of expertise in radio communications.
Prior to the COML Course, Radio/SCADA Supervisor Kesi Kuki, and Radio Technicians/Operators Brenda Tevaga-Feero and April Esera all of ASPA attended COMT Courses in Albuquerque, New Mexico and Honolulu, Hawaii .
They also completed all the required prerequisite courses as part of the selection process for the COMT and COML Courses.
Homeland Seuciry Director Samana Semo Ve'ave'a extends a big fa'amalo and fa'afetai to ASPA Executive Director Utu Abe Malae for his continuous support of programs that are of mutual benefit to personnel and operations.
Samana says, "We are all very proud of the accomplishments and contributions by the four toward building local capacity in radio communications, a key component to emergency operations."