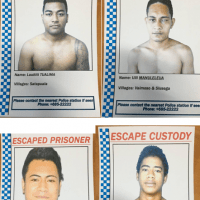 A manhunt is underway for two prisoners who remain at large after escaping from Tafa'igata Prison early this morning with two others who have since been recaptured.
Police are looking for Aniseko Vaelei and Uili Manuleleua and are appealing for the public's support in recapturing them.
The public appeal also comes with a warning not to approach them directly as the prisoners are considered dangerous.
Vaelei is from the villages of Vaiusu and A'ele while Manuleleua is from Vaimoso and Si'usega all villages within the town belt and close to the prison.
The ages of the two escapees have not been released.
The inmates who were recaptured are Lauitii Tualima and Vaioa Solia.
Lauititi is the prisoner who in a previous escape raped an Australian tourist after tying up her and her fiance.