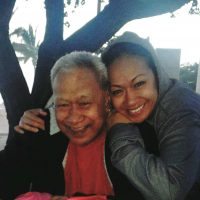 A long time staffer of the late Congressman Faleomavaega Eni Hunkin, and a poet of note in the Pacific region Eti Saaga, passed away peacefully in Honolulu last week.
In his lifetime, Eti has been a builder of roads, a journalist, a press officer for the Department of Education , a TV host, documentary producer,  speech writer,  press man and translator for a congressman.
In his younger days he was Jesus Christ  in a production of the musical Jesus Christ Superstar.
Eti was one of the star graduates of  the Samoa Government school, Samoa College, and was influenced by his English teacher, the famous novelist Albert Wendt.
But when he was offered a government scholarship to study in New Zealand, he turned it down and opted to be a laborer, building roads.
It was then that he penned his most famous poem, "Me the Labourer" which is studied by universities in Fiji, New Zealand, and Samoa.
After a few years as a reporter for the Samoa Times newspaper in Apia, Eti and his wife, the late Otilia Hunkin Saaga moved to American Samoa.
He worked as a journalist for the Office of Samoan Information, then moved to the Department of Education and later the Department of Human Resources.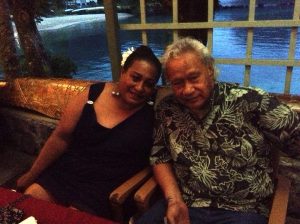 He then joined the local staff of Congressman Faleomavaega where he spent more than two decades as the congressman's press officer and speech writer.
During that time he was also a broadcaster on KSBS FM often doing the Flag Day commentaries.
A man of many talents, Eti was also a musician.
Eti was a colleague who knew the appropriate use of words and how words conveyed certain feelings, ideals and emotion.
He fell ill six years ago and has had many close brushes with death.
He went in and out of hospital here and in Honolulu.
He recovered and was slowly regaining his strength, but last month after he had another bout of illness, his only daughter Terri had him and his companion of many years, Fuamoli, fly to Hawaii for medical treatment.
He died last Wednesday at the Kuakini Medical Center.
Many of us who were close to him can say Eti was a man who was ahead of his time.
His thoughts were original and sometimes harsh but true.
He was a man who knew communication and never backed down from critiquing those in the business, including this communicator.
His passing is being felt by his many relatives and friends around the world.
KHJ News sends love and prayers to his companion Fuamoli and his children Che, Robert, Willie and Terri and shares their sense of loss.