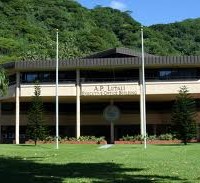 Friday is expected to be a busy day as it will be an early ASG payday .
The ASG holiday for Christmas is on Monday, December 25, which is the regular payday for ASG.
Therefore Treasury will be releasing paychecks this Friday.
ASG paydays see a surge in traffic , crowds at the banks, stores and restaurants.
With holiday shopping also in the mix, one can expect the roads especially in the Nui'uli and Tafuna area to be busier than usual
Friday is also the last day of production for StarKist Samoa and the 2,000 employees will be on a two week break.
The ASG holiday for New Years is Monday, January 1st.