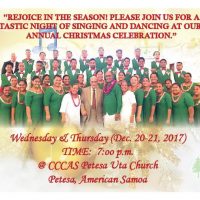 The CCCAS Petesa-uta Choir under the leadership of Reverend Tusi Seanoa is holding its annual Christmas celebration tonight and tomorrow night.
This is the 14th year of the choir's Christmas Program and the public is invited to join them in heralding in the birth of the Baby Jesus.
The Petesa-uta CCCAS choir, directed by Tauese Vaa Sunia. is one of the few that produces original compositions.
It has released many CDs over the years.
The choir's 2017 Christmas concert is at 7pm tonight and tomorrow at the CCCAS Petesa Uta Church.
The public is invited.