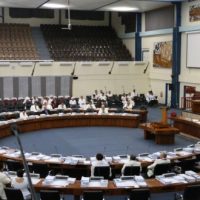 The increase in the permit fee for US nationals from American Samoa entering Samoa hasn't slowed down the number of travelers from the territory going across.
Weddings, matai title bestowals, reunions, church dedication, funerals, and graduations  in Samoa at this time of the year have seen a large number of local residents in hotels, restaurants, stores and the streets of Upolu and Savaii.
Early this week, a call was made in Parliament to do away with the entry permit for American Samoans visiting Samoa.
The call by the Member of Parliament for Urban West Faumuina Wayne Fong was made during discussion of amendments to the immigration law to deal with refugees.
Faumuina asked that the Prime Minister who is also responsible for the immigration port folio consider doing away with the entry permit and open up the borders to visitors from American Samoa.
Faumuina said while travelers from all other countries are free to stay in Samoa for 90 days, "our brothers and sisters from Tutuila" are not given the same privilege.
The first term Member of Parliament said it didn't seem fair that American Samoans were not getting the same treatment as other visitors.
He suggested that the borders be opened to American Samoans "to come and spend their money in Samoa" without any restrictions.
In his response, Prime Minister Tuilaepa Sailele Malielegaoi detailed the genesis of Samoa's entry permit for US nationals from American Samoa.
He said American Samoa had fined the Samoa Shipping Corporation for not abiding by new regulations which the territory imposed without any prior notice.
The PM told Parliament that as long as American Samoa has a permit for visitors from Samoa, Samoa will reciprocate in kind.
Tuilaepa acknowledged that American Samoa needs to control its borders because it has limited land.
He said the minute American Samoa removes its entry permits for Samoan citizens, Samoa will do the same.