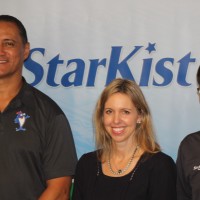 StarKist Company, the owners of StarKist Samoa remain hopeful that Congress will approve an extension of the 30 A tax credit.
The cannery says it needs the extension to remain competitive against its competitors.
A provision sponsored by Congresswoman Aumua Amata to extend the tax credit for six years wasnt in the final version of a tax reform bill that the House approved. Friday.
But there's hope that it will return in a tax extenders bill to be introduced later.
A statement from StarKist, says it fully supports Congresswoman Aumua Amata Radewagen and appreciates her efforts to secure the 30(A) tax credit as part of a separate tax extenders package.
The credit expires December 31st.
According to the cannery, the 30(A) tax credit levels the playing field and helps American Samoa to compete globally.
StarKist says without this credit, it would not be economically viable to manufacture in the territory.
The company says, "It is becoming increasingly difficult for American Samoa to compete with other manufacturing locations where labor costs and other expenses are substantially lower and subsidized.
"Our competition is doing a bulk of its production in countries like China and Thailand and reaps the financial benefits of cheap labor and subsidized costs.
"StarKist, on the other hand, is trying to sustain a business on U.S. soil and is being penalized with increased costs and short-term fixes."