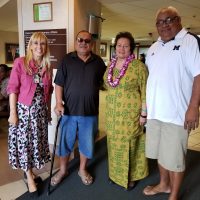 Congresswoman Aumua Amata highlighted veterans' legislation that passed the House Committee on Veterans' Affairs in the Committee's final votes of 2017.
The bill was introduced in early November with the support of Congresswoman Amata as an original cosponsor of the legislative effort, and strengthened by an amendment in markup to better assess health care in U.S. territories, including American Samoa.
"Veterans in American Samoa often have less access to the quality care they deserve due to the price of services and the distance to medical facilities," said Aumua Amata.
"The Committee's legislative agenda includes working to continue finding solutions for more options. We will keep working for lower costs and better care in remote areas, and this vote is part of that ongoing effort."
The bill further builds on what was learned through the CHOICE Program experience, while reducing some of the inconveniences that were discovered in its management.
The CHOICE program, enacted by Congress three years ago, was in effect during an increase in community care appointments of over 60 percent since Fiscal Year 2014.
By Fiscal Year 2016, a total of 30 percent of all VA appointments were no longer in VA medical facilities, but some other community care option.
Amata supported a key amendment, sponsored by Congresswoman Jenniffer González-Colón (R-Puerto Rico), requiring the VA to report on health services provided veterans in the five insular U.S. territories: Northern Mariana Islands, Puerto Rico, American Samoa, Guam, and the U.S. Virgin Islands.
"I'm confident there's a growing awareness in Congress of the need for lower costs, more options, and better care in remote places," concluded Congresswoman Amata.
"I appreciate Chairman Roe and my colleagues on this Committee for their work on these priorities, and also a thank you to my friend, Congresswoman González-Colón for her efforts on behalf of all the territories."