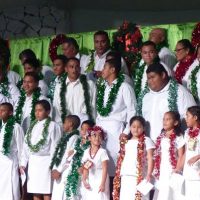 The Territorial Holiday Music Festival, coordinated by the American Samoa Council for the Arts, Culture and Humanities and the Department of Youth And Women Affairs was moved to the Lee Auditorium last night due to bad weather.
The program opened Sunday night with religious music at the Fagatogo malae.
But when the weather turned foul yesterday, threatening to blow over tents and wetting chairs and tables, the festivities were moved to the Lee Auditorium.
Church, village, schools and youth organizations performing in the four nights of the festival were selected after auditions by the Arts Council.
Governor Lolo Moliga has stressed to cabinet members they must attend the evening performances as it's embarrassing that TV shows he and the lt governor attending and very few directors showing up.
The Holiday Music Festival is sponsored by a grant from the National Endowment for the Arts.
A bigger than usual number of directors attended the first two nights of the holiday music festival, which wraps up tomorrow.