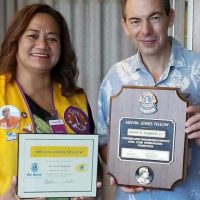 The President of the Lions Club of Pago Pago Lisa Tuatoo personally presented a prestigious award of Lions Club International to the president and CEO of Hawaiian Airlines,  Mr Mark Dunkerley this past Saturday at the Hawaiian Air head office in Honolulu.
The award was announced at a dinner two weeks ago and Local Station Manager of Hawaiian Air Tuli Fruean accepted on behalf of Mr. Dunkerley.
Since Tuatoo was traveling to Honolulu on a personal trip, she made a stop at the Hawaiian Air office to personally present the Melvin Jones Fellow Award to Mr. Dunkerley.
The award honors the founder of the Lion Club.
Mr Dunkerley was the recipient in recognition of his continuous contribution to the Lions Club of Pago Pago via raffle tickets and discounted airline tickets for the Adventist Medical Evangelism Network (AMEN) team that recently provided free medical clinics in the territory  and also shipping their equipment free of charge.
The airline has also been doing the same for other medical teams that the Lions Club brought here for their eye care mission.
Tuatoo reports that the Hawaiian Air boss was ecstatic when she stopped by his office and handed him the award.
Mr. Dunkerley joins a select few recipients of the Melvin Jones Fellow Award.
Lions Club International is celebrating its 100th anniversary, while the local Lions club is 35 years old this year.