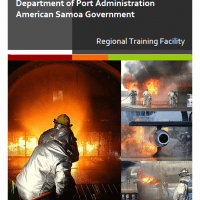 American Samoa's offer of using its hot fire training pit for joint exercises with Samoa is being followed up with a visit by the Samoa Airport Authority to inspect the local facility,
Director of Port Administration Taimalelagi Dr Claire Poumele extended the invitation during the Samoa talks in Apia.
The hot fire training pit which simulates an airplane crash was funded by the Federal Aviation Administration to the tune of $15 million.
One of the aims for building the facility was that it will be used as a regional training facility.
According to Taimalelalgi,the CEO of the Samoa Airport Authority Magele Hoe Viali has welcomed the invitation and is planning to visit the territory to inspect a live fire exercise.
A date for the visit is being finalized.
The port director says Pago Pago International Airport may have a $15 million training center but it's the skills and knowledge of the trainers that will make a difference.
She complimented that the Samoa Airport Rescue Fire Fighters and Chief have a wealth of experience and we look forward to utilizing the human resources of both countries to elevate the standards of fire fighting.