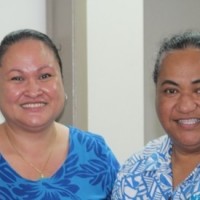 ANZ Bank has yet to name a new country manager to fill the vacancy created by the resignation of former Country Manager Joanne Rasmussen.
Rasmussen, who was the first Samoan to be appointed as country manager of any ANZ Bank, is the new regional General Manager of National Pacific Insurance, based in Apia.
She replaces Mr. Dennis Wellbourne who has moved back to the US mainland with his wife, attorney Anne Wellbourne and is said to have retired.
Mr. Wellbourne previously headed the local NPI Office, and appointed the first local GM of NPI, American Samoa, Agnes Polu.
Rasmussen meanwhile left ANZ bank two months ago and has relocated to Apia, from where she oversees NPI operations in both Samoa and Tonga.
As for a new country manager for ANZ Bank in American Samoa, ANZ's communications officer in Suva, Fiji, Mue Bentley-Fisher told KHJ News that for the time being Mrs Tasi Scanlon is looking after ANZ Bank operations in American Samoa.
She said that the bank is going through the process of selecting a new country manager and an announcement will be made once an appointment has been made.