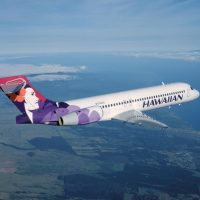 Hawaiian Airlines operates its first additional flight for the holiday season this Wednesday.
As it does each year during the summer and holiday season, Hawaiian Air puts on an additional weekly flight to meet demand.
The first flight is this Wednesday, then next week on the same day, December 27 and the first Wednesday of 2018 , January 3.
The add on flights will operate on the same schedule as the normal Monday and Friday flights, arriving from Honolulu at 9:30 pm and departing from Pago Pago at 11:25 pm
The airline is continuing with daytime check in at Pago Pago International Airport from 8:00 am to 4:00 pm on the day of travel only.
Passengers are reminded to present valid travel documents, and reservations upon check in and allow sufficient time to process through the security checkpoint and ASG immigration.
The security checkpoint will close at 10:30 pm with no exception.